Sweet Land By JILI: Discover Sweet Winnings with 97% RTP
Have you heard of "Sweet Land," the latest game by JILI? It's making waves in the gaming world for its remarkably high winning rate, exceeding 97%. Additionally, it offers enjoyable and colorful gameplay and strategies that players adore.
Sweet Land Slot By JILI: An Introduction
Meet Sweet Land by JILI, a new game in town with a remarkable winning rate of over 97%.
This game stands out because it's easier to win than most.
It's not just about winning, though;  JILI's Sweet Land offers exciting and colorful strategies that players really enjoy.
Let's dive in and learn more about what makes this game so special.
Sweet Land: Cascading Reels
After every spin, winning combinations are paid and all winning symbols disappear. The remaining symbols fall to the bottom of the screen and the empty positions are replaced with new symbols coming from above. Cascading will continue until no more winning combinations appear. All wins are added to the player's balance after all of the cascading resulted from a base spin have been played.
Sweet Land: Multiplier Spots
This is the WILD SYMBOL and substitutes for all symbol except the SCATTER SYMBOL.
In each spin, every two cascading wins will award a WILD SYMBOL, and it will randomly 

appear at the marked spot

. Player can get up to 4 WILD SYMBOLS per spin.
When there is no winning combination but there are still WILD SYMBOLS on the screen. The WILD SYMBOLS transform into WILD BOMB and explode. The WILD BOMB

will destroy all adjacent symbols

except the SCATTER SYMBOL and give space for new symbols to drop down and continue the cascading if available.
This is the SCATTER SYMBOL appears on all reels.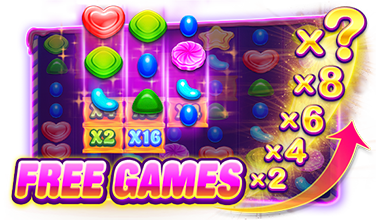 Hit 3 or more SCATTER symbols anywhere on the screen to trigger the Free Game.


3 SCATTER symbols awards 10 free spins.
4 SCATTER symbols awards 12 free spins.
5 SCATTER symbols awards 15 free spins.
6 SCATTER symbols awards 20 free spins.
7 SCATTER symbols awards 30 free spins.

Hit 3, 4, 5, 6, or 7 SCATTER symbols anywhere on the screen during the Free Game to win 10, 12, 15, 20 or 30 additional free spins respectively.
During the Free Game, 

the marked spots and their multipliers remain in place until the end of the Free Game

 and can increase with subsequent cascading through the free spins.
Payouts are shown as bet = 1.
All symbols pay in blocks of minimum 5 symbols connected horizontally or vertically.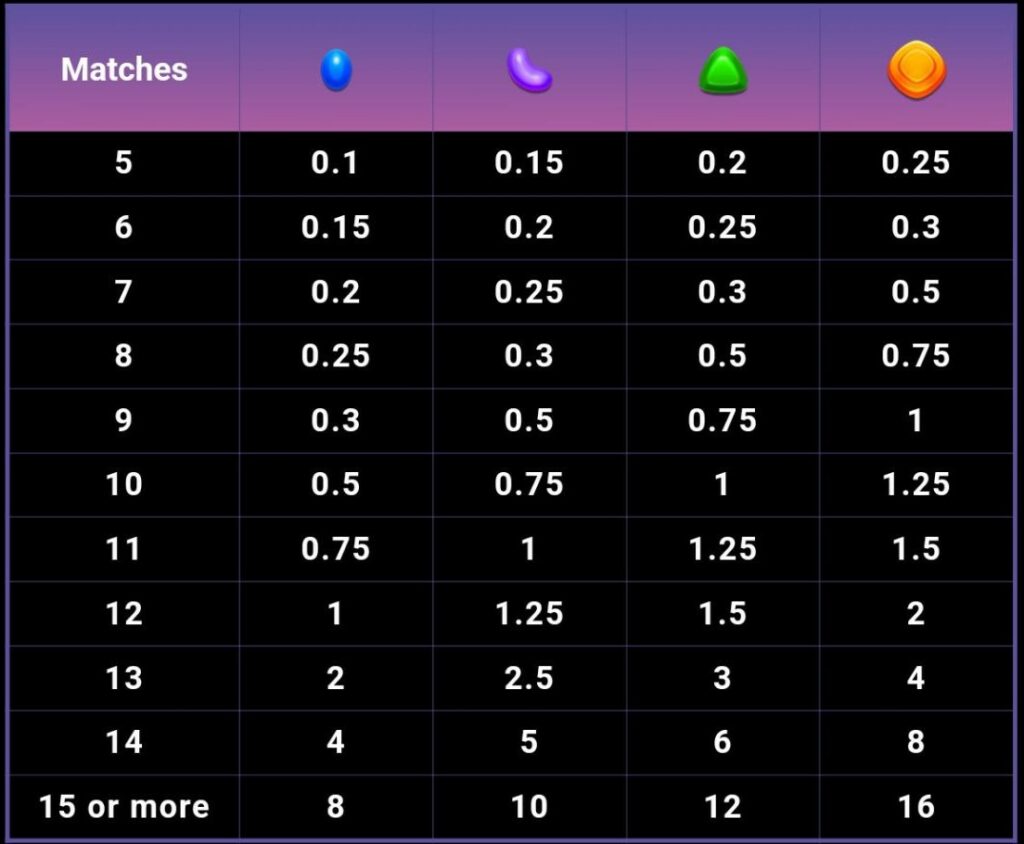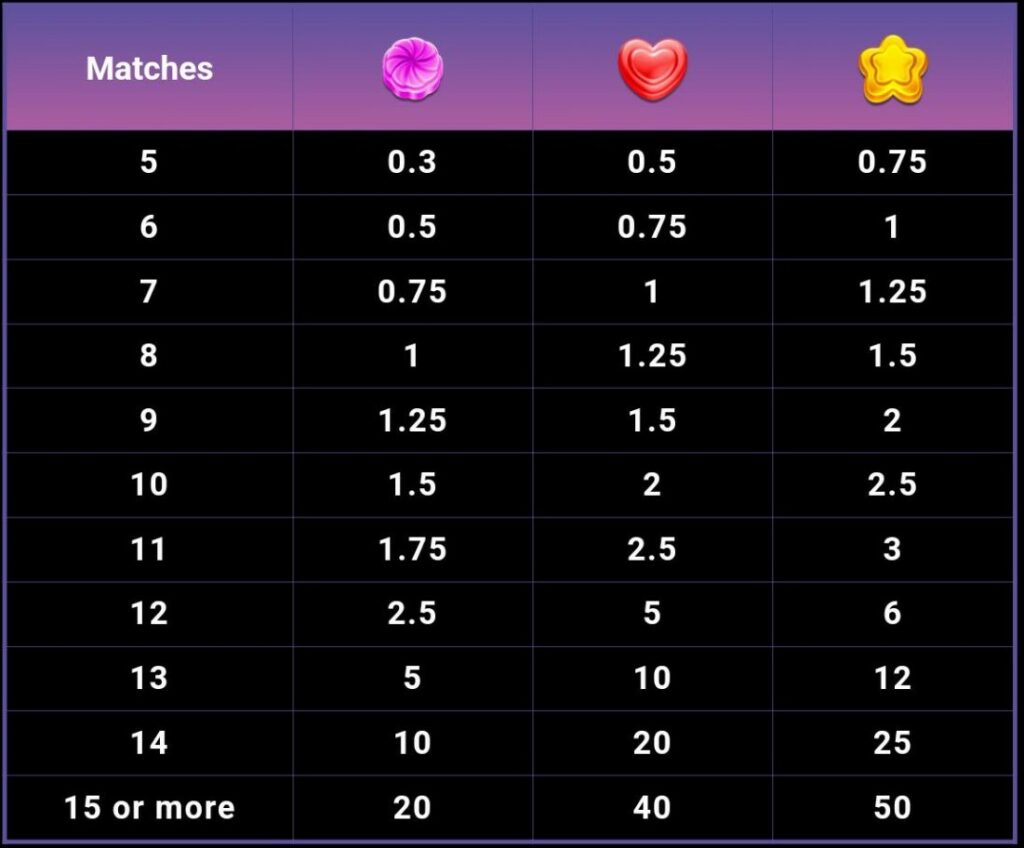 This is a video slot with 7 x 7 grid, using a cluster pays system to land wins. At least 5 or more of a kind are required to make a winning cluster, and the symbols involved must be connected to each other in horizontal or vertical directions.
Only the highest win is paid per winning combination.
Winnings = Payout x Bet
e.g. Player bets 1 and wins 8  that are adjacent to each other, winnings will be "2 x 1 = 2".
When winning with multiple blocks all wins are added to the total win.
Free game will play with the same bet settings as those in the trigger game.

RTP = 97.00%.

Malfunction voids all pays and plays. If there's any malfunction during the feature game, the system will automatically complete the subsequent game and reward the player.
Where an interruption occurs after the operator receives notification of the customer´s gamble and where the customer can have no further influence on the outcome of the event or gamble the results of the gamble should stand.
.
Sweet Land: Where to Play?
Your Most Trusted Online Gaming Destination
Experience Sweet Land on Your Most Trusted Online Gaming Destination and Receive 100 Free Bet
Discover Budget-Friendly Promotions at Your Trusted Online Casinos
Want to play, but your budget isn't enough? We've got you covered. Introducing your most trusted casino's budget-friendly promotional offers! Experience more gaming fun without breaking the bank. Come now and play!
JILI's Crowd Favorite Game Bundle
Wanna Play? Get it on with the Crowd Favorite Game Bundle, featuring the most loved games in JILI that gamers can't get enough of! Level up, dominate, and conquer as you immerse yourself in the top-rated titles, all in one epic collection. Don't wait, play now right only here at SSBET77 - where gaming is not just a hobby, it's your gateway to earning big!..
Absolutely, Sweet Land by JILI  gives you the opportunity to win actual money. However, it's crucial to play sensibly and not spend more than you can afford. If you do win, you can easily take out your winnings using safe and straightforward methods like GCash, PayMaya, and others. Remember, responsible gaming helps you have a balanced and fun time.
Sweet Land By JILI can be enjoyed on a range of platforms, including Windows, Android, Mac, and HTML5, making it accessible to users no matter their device. Whether you're using a computer or a mobile device, you can enjoy the exciting experience with just a click.
Stay Informed with the Newest Game Reviews and Useful Casino Tips Articles...