Jili Boxing King Slot : The Ultimate Boxing Battle in Casino
It seems like you are in the ring fighting, but you are staying at home while playing. 
It's based on boxing, so if you love both and are a fan of slot games and boxing 
This game is for you!
Play at Philippine Online Casino
Boxing King Slot

- By Jili
Publish Time:    2020
Highest Multiplier:   2000x
Supported Platforms:  Windows/ Android /iOS/ Mac / HTML5

Return to Player : 

     

97.64%

Volatility  :

   Low to Medium
Min. & Max Bet sizes  : 

 1.00 – 1,000 (Phillipine Currency)
Punch your Luck with the Boxing King Jili slot game! The Ultimate Virtual Boxing Battle
  Whether you're a passionate boxing fan or simply seeking an action-packed gaming adventure this guarantees you a good time. You will love Jili's Boxing King slot game because, it's jam-packed with free games. 
This game is based on boxing and is for those who love boxing and slots. This game is for you!
  As you enter the virtual ring, where the sport spirit comes to life. Get ready for an exciting experience. Feel the rush as you put on the mask of a great boxer, ready to take on tough opponents and win!
   When it comes to boxing, the Philippines is one of the most passionate countries in the world. Globally, it's not surprising that the Philippines is an acclaimed boxing powerhouse. Where the famous "Pambansang Kamao" and other great boxers continue to be popularized in boxing. Today, this online game is also popular in Asian countries like Thailand and Cambodia. 
It seems to match Asian tastes.
 With stunning visuals, realistic animations, and sound effects. Thus, you will find the game more interesting by hitting matching symbols with payouts because it adds thrilling effects.
Knockout reasons to play Boxing King Slot
Suitable for all skill levels

Variety of features and bonuses

Exciting gameplay

Chance to win big rewards

Convenient accessibility on different devices
Boxing King Slot

–

Demo Play at Online Casino
For players, watch the demo play in order to gain a comprehensive understanding of the game mechanics.
Boxing King Slot

  – 

Game Rules
If any symbol appears three or more times, starting from left to right in "Row", the player wins.
  2. Points earned = Multiplier x Bet.
  3. The total number of paylines is 88.
Boxing King Slot

  –

Winning Paylines
There are 88 paylines in the Boxing King slot, and according to most slot game masters or experienced players, more paylines mean more chances to win.


For players, get familiar with the paylines so you don't misunderstand the payouts when you hit a winning payline with matching symbols.
  4. Only the highest scoring payline is paid out.
  5. If the game cannot be decided due to errors, it is considered invalid.
Boxing King Slot -

Free games &

Scatters
With X4 Scatter Symbols, player will receive 12 free games or free spins.
Free games start with X3 Scatter Symbols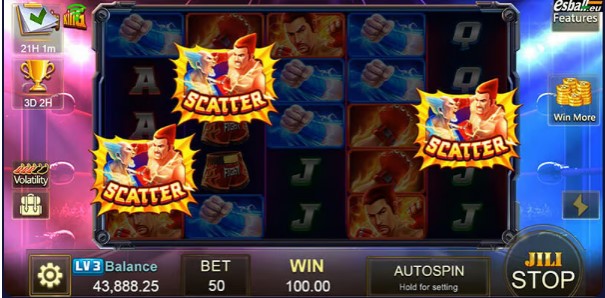 You'll get 12 free spins with X4 scatter symbols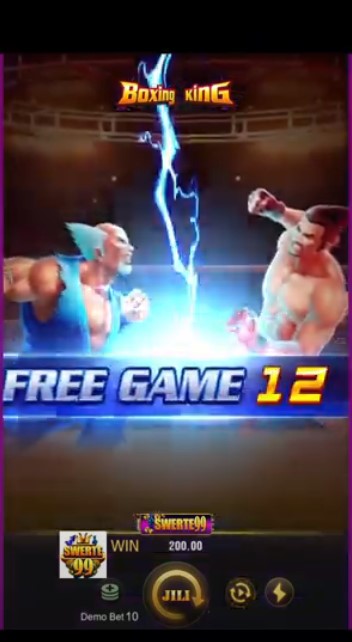 1. Players will enter the free games when 3 or more scatter symbols appear (e.g. 12 free games or free spin

s)

.

2.

Points earned = Player bet X 2.

3. Scatters will not appear during free games.
Boxing King Slot -

Special Symbols Rules
(Wild & Free Spins Rules)
Can replace any symbol in the game, except Scatters and Free Spins.
Wild appears on the 3rd,

and 4th

reels in normal game mode.

Wild appeared on the 2nd, 3rd, 4th, and 5th reels in a free game.
Boxing King Slot

 

– Paytables with Payouts
Casino Tips: Slot machines and other casino games that involve paylines and payouts. The main purpose is to inform players how much money they can win.
For players, you must be aware of your potential winnings.
Where to Play Boxing King Slot?
  Get Ready for an unforgettable gaming adventure at Milyon88, Jilino1, Ssbet77, Swerte99 & Betso88. Legit online casino Philippines which offers Jili top slot games like Boxing King slot.
Get a taste of the best casino slot games. Recieved your bonuses, play games, and have fun. Become a member now and start playing today!
Join now and get a welcome bonus!
Get ready for a knockout experience: Jili Boxing Slot packs a punch of winnings!
FAQ – Boxing King Slot by Jili
Yes, you can win real money playing Boxing King slot games in the Philippines, but gamble responsibly and within your means. By winning multiple times, you can withdraw them immediately using GCash, PayMaya or other payment methods.
Min. bets:  P1.00  &  Max. bets:  P 1,000 (Philippine Currency).
The Hottest Game Reviews & Related Articles… READ MORE..