Fortune Gems 2 Slot by Jili : Game Reviews 2023| Philippines

The slot theme is bright and colorful precious gemstones. While playing this game, it feels like you're going to discover a hidden treasure.
  Similarly to version one Fortune Gems, they have the same theme and 8 character symbols in the interface, and multipliers.
Both have 3×3 reels. As compared to other slot games, it's not complicated and easy to spot the interface movements since it only has 4 reels including the multiplier.
Fortune Gems 2 has a "Lucky Wheel," which makes it different from version one. That makes it even more exciting when you hit the biggest multiplier bonus.
Special Wheel – Fortune Gems 2 Slot
Software Provider : Jili Gaming 
Return to Player:  97.06%
Min. bets:  P 1.00  &  
Max. bets:  P 1,000
Demo Play in Online casino: Fortune Gems 2 slot machine
For players, watch the demo play in order to gain a comprehensive understanding of the game mechanics.
You'll also feel the difference between Fortune Gems 2 and version 1's bonus games.
Fortune Gems 2 Slot –


Winning Paylines
There must be at least three (3) identical symbols and they must be consecutive. 
Start from left to right.
Samples of Winning patterns with Paylines
Lucky Wheel & Multipliers:

Fortune Gems 2 Slot
You'll find 6 multipliers (1x, 2x, 3x, 5x, 10, 15x) in normal bet mode and wheel symbols on the 4th reel.
The best part of the game is when you hit the wheel symbol and get to play another"lucky wheel" bonus round.
A "Lucky Wheel" trigger releases a random prize depending on your bets and multipliers such as: 1x, 3x, 5x, 8x, 10x, 15, 20x, 30x, 50x, 100x, or 1000x. There's a chance for everyone to win big.
 Fortune Gems 2 slot has vibrant colors & engaging themes and symbols that can make the interface visually appealing.
The 8 symbols are composed of three precious gemstones ruby, emerald & sapphire, a wild symbol and four letters A, J, K & Q.
Fortune Gems2 Slot  – Game Interface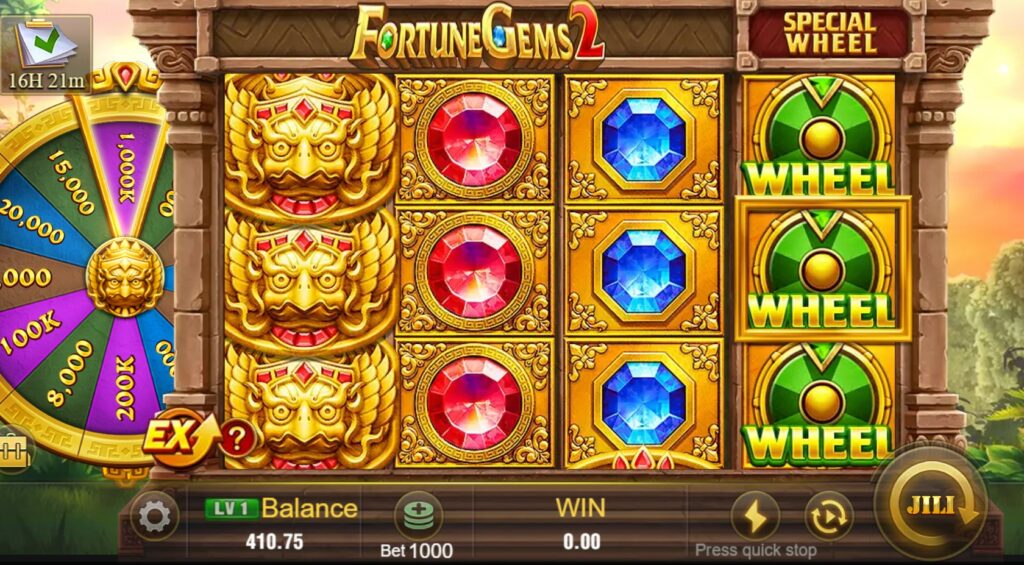 Fortune Gems 2 – Paytables
Where to Play Fortune Gems 2 slot?

 Milyon88 and Betso88 are two leading online casinos in the Philippines. They offer the latest, hottest, and most popular games from Jili Gaming and other world-class providers.
Fortune Gems 2 is an online slot game that allows you to earn real money while playing.
These two casinos provide support and assistance to new players to enjoy the gaming experience.


List of Milyon88 New member promotions:
List of Betso88 New member promotions:
The Hottest Game Reviews & Related Articles… READ MORE..
FAQ – Fortune Gems 2 Slot by Jili