Charge Buffalo Slot by Jili : Enjoy the Adventure in the WILDERNESS
You'll unleash your wild side when you hit more wild cards in Charge Buffalo slot.
This animal-themed slot allows you to experience adventure in the wilderness.
Charge Buffalo Slot -

Game

Introduction
Charge Buffalo 
Publish Time:

   

2020

Software Provider:  

 Jili Gaming

Highest Multiplier:

   

4000x

Supported Platform:

 

 Window/Android/Mac/HTML5

Min. & Max. Bet Sizes:

   0.5-1000 PHP 

(Philippine currency)
    Charge Buffalo slot machine is an animal-themed slot game. In general, nature fascinates humans and the adventure has always been connected to wild nature and outdoor fun activities.
 A Buffalo or a Bison of any breed or breed, either African or American symbolizes strength, resilience and abundance for most North American indigenous people.
This game has different virtual animals in the wild or animal character symbols.
Whenever you score, nature sounds of wild animals will play as sound effects.

Whether it's a real or a virtual animal, we have the mutual feeling that these creatures inevitably show and provide us with entertainment, education, and emotional connections.

The adventure continues with Charge Buffalo – the top slot games from Jili Gaming. 
A number of free game features make this game more popular than other slot games. These features include up to 100x free spins when collecting a large number of scatters in a row.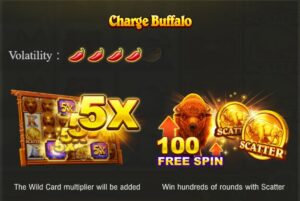 The game style is very generic and appeals to any gender. This game has an unusual feature because most slot games require three or more similar symbols within the paylines to score.
However, the Charge Buffalo game works and scores even if two identical symbols only appear within the same payline, but only when they appear from left to right.
This game has 6 reels and 4 rows as well as 4096 ways to win, which means there is a lot of chance of winning.
A pair of two identical symbols only with a score (two wolves)
Charge Buffalo Slot: 

Free games Rules

1-4
 The bonus free games mode adds to the thrill of the game for players.

It will extend game play while not risking money. It is the most exciting part of slot game to enjoy!
3 Scatters Symbols = 8 Free spins
Scatter Symbols
(Buffalos)
    1.The number of scatters in the main game determines how many free spins you will get.
    2.You will get a free game if you get 3 or more scatters in a row starting from the leftmost reel.
    3. Additional free spins will be awarded if 2 or more Scatters appear in free game mode. Which is unlimited.

 4. If the bet line wins and WILD is involved, you'll get extra multiplier between 2X and 5X at random.
 Bet line wins with over one WILD will get a multiplier.
 E.g. If bet line wins involve 2 WILDS with 2X and 5X, the payout count will be 7X.
Jili Charge Buffalo Slot

Demo play
For players, watch the demo play in online casino platform in order to gain a comprehensive understanding of the game mechanics.
Charge Buffalo Slot: 

 

Paytables
This Charge buffalo game has 6 reels and 4 rows and 4096 ways to win. This means there is a lot of chance of winning. 
Here are the group of paytables so you can see the possible winnings when you hit identical symbols on paylines.
Winning Paylines with Payouts
Where to Play

Charge Buffalo Slot?

Definitely you will unleash your wild side when you hit more wild cards in the Charge Buffalo slot.
Get ready to spin the reels by playing at these online casinos that offer Jili Gaming slot games in the Philippines: Milyon88, Betso88 & Ssbet77.
With Casino free 100 Bonus, you can play Charge Buffalo Slot right away! (Click Promo Images to avail)
FAQ – Charge Buffalo Slot 
Yes, you can win real money playing Charge Buffalo slot games in the Philippines, but gamble responsibly and within your means. By winning multiple times, you can withdraw them immediately using GCash, PayMaya or other payment methods.
Min. bets:  0.5 – 1000 PHP 1,000 (Philippine Currency).
The Hottest Game Reviews & Casino Tips Articles… READ MORE..