Alibaba Jili slot game in Casino | High RTP – Philippines
By playing Alibaba Jili slot game in the casino. 

You will discover secrets & turn your luck, and get your own treasure! 
Ratings: 8.0 out of 10 votes
Alibaba Slot -

Introduction

&

Reviews
  "Arabian Nights," also known as "One Thousand and One Nights," is a collection of Middle Eastern folk tales and stories that has captivated readers and listeners for centuries. Interesting stories not only for kids, but for all ages. It is considered one of the most famous works of Arabic literature.
"Ali Baba and the Forty Thieves" is one of the most famous tales from "One Thousand and One Nights" (Arabian Nights).
These make folktales enticing because they touch and give an audience or a reader an imaginative adventure and exploration of a world of magic. It also has interesting themes of romance and valuable lessons.
The Alibaba slot game by Jili has been popular in the Philippines not because it offers high returns to players (RTP), but because players find it to be amusing and a fun theme slot too. The theme is intriguing because it gives us a glimpse of Middle Eastern culture. 
One of the best parts of this game is when you get the 4 scatter symbols and when Alibaba speaks "Open sesame" for more free games.
™  Provider  :  Jili
◊Theme  :  Alibaba & The Forty thieves
 Return to Player    :  97%
  ⇑⇓ Volatility   :  Low
       Release       :   2021
     Min bet    :  P1.00 (PHP)
       Max bet    :   P1,000 (PHP)
Alibaba Slot –

Theme & Interface
In this game, you can find character symbols and icons just like the characters in the story. These include: Morgiana – The girl, Kasim, an emerald ring, coins, urns, sword, special symbols like, scatter symbol, treasure chest, and letters A, K, Q, J, & number 10.
For players, watch the demo play in online casino platform in order to gain a comprehensive understanding of the game mechanics of Alibaba Slot.
Alibaba Slot –

Freegames Rules
If you collect 4 scatter symbols, you'll receive more free games when

Alibaba says "Open sesame".
Treasure chest symbol multiplier depends on spinning wheel and when it stops, and it can get up to x4.
You'll also start the free game with the multiplier you've selected.
How to Play Alibaba?

Game Rules
In accordance with the paytable, paylines begin on the leftmost reel and go to the right.
Maximum paylines are 32,400 ways.
For each payline, only the biggest payouts are considered.
Winnings = Bet x Pay
Where to Play Alibaba Slot?
  You can enjoy Alibaba slot and other top slot games from Jili Gaming at these Online Casinos Philippines. Just Play Have Fun & Enjoy the game by Signing Up at Milyon88 & Betso88 Online Casino.
You can play & bet for free by taking advantage of welcome bonuses and other promotions.
Alibaba Slot -

Paytables

& Special

Symbols
Using these paytables, players can figure out how each symbol works. Transparency and clarity about the rules and rewards are provided.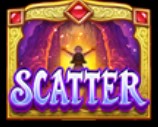 Scatter (cave) Symbol
In the Normal game mode allows you to enter free 10 games if you get four scatter cards, plus additional games if you get one more.
In the free game mode, get 4 scatters and continue the free game (10 rounds) and you can get 2 additional games for each additional scatter.
Long Wild (Alibaba) Symbol
It's a long wild symbol made up of 4 normal wild cards. Except for scatter symbols, all WILD symbols can be replaced.

FAQ – Alibaba Slot by Jili
The Hottest Game Reviews & Related Articles… READ MORE..